17/07/2020 at 15:41
Our final week at Farfield has come to an end! Although it was not the end of the year that we imagined, the children have been able to take part in some celebratory events this week, including a farewell tour of the school with clapping, cheering and instruments from all the other classes; signing shirts and yearbooks; and a Year 6 leavers' assembly, which was held outside with Mr Harris. This was a lovely opportunity to have the whole class together again and to celebrate some of the things that make each 6S child so special. I am so proud of the children for all their achievements – congratulations to you all! A special well done to Betsy and Jack, who were awarded Farfield Girl and Farfield Boy for consistently representing the values of our school learning hive throughout their primary school years.
As a little extra leaving 'gift', we have made a special video featuring the children in Year 6, their memories and what makes them a Farfield child. A link will be sent out via email so that you can watch this. Thank you to Miss Levett for putting it together!
I would like to wish everyone the best of luck with the next step in their journey. I have loved teaching you all this year and I know you will all go on to do amazing things. I would also like to thank all your parents and carers for doing such a fantastic job of supporting you while throughout primary school and especially while you have been at home this term. Finally, thank you for all the lovely cards and gifts I received this week; they are so thoughtful and much appreciated.
I hope you all have a wonderful summer. Come back to visit us next year!
Best wishes,
Mrs Sykes
10/07/2020 at 16:45
Here's what we have been up to in our penultimate week at Farsley Farfield!
Exploring Light in Mrs Sykes' bubble
To finish off our topic on Light, we had fun making kaleidoscopes and thinking about how they work:
We also observed the way that light sometimes bends when it travels through a different material, like water. We found out that this is called refraction:
Getting creative in Miss Levett's bubble
Miss Levett's group are busy working on two art and D.T projects. They are not finished yet, but here is a sneak peek of their papier mache waterfalls and silhouette artwork!
SRE
Finally, Miss Levett and I would both like to say how impressed we've been with everyone in 6S during our SRE lessons this week. The children showed great maturity and had the confidence to ask questions and join in with discussions. You might like to talk to your children at home about what they have been learning.
Have a wonderful weekend everyone: let's hope this rain stops!
Best wishes,
Mrs Sykes
03/07/2020 at 16:33
Here are some of the things we have been doing in 6S this week!
In science, we explored how we can use mirrors to see round corners. The children were able to describe how the light had travelled and label this on a diagram. Some children even had a go at making their own periscopes.
In English, we have been exploring stories with doorways or portals. We read and listened to a poem called 'The Door' by Miroslav Holub and had a go at reading it ourselves. Have a listen to these two contrasting performances. I wonder which one would convince you to open the door?
Following this work, we started writing our own portal stories. We will be finishing these next week.
Miss Levett's group have been writing stories based on this image called 'The Vanishings'. It sounds like they have done some amazing work so far!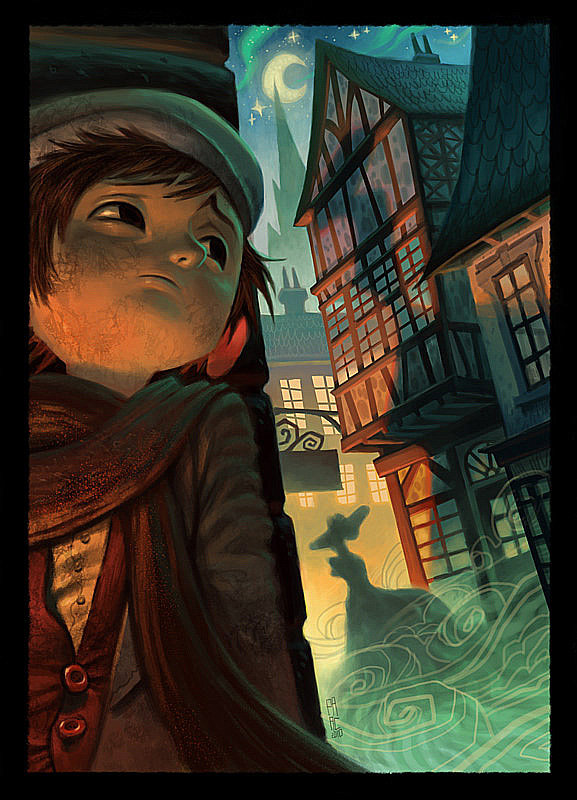 They have also started making models of waterfalls: I will share their finished work next week!
We are looking forward to having everyone in 6S back at school next week. I can't believe there are only two more weeks to go before the end of primary school!
Have a lovely weekend everyone,
Mrs Sykes
03/07/2020 at 07:00
Hello 5L, welcome to the 6S blog!
Hopefully most of you know that I am Mrs Sykes and I will be your teacher next year. I am really looking forward to getting to know you all and to teaching you throughout your final year of primary school! Year 6 is a fantastic year. We have many exciting topics and trips, but Year 6 is also a year that gives you the chance to really grow as an individual, challenge yourself, gain confidence and take on the responsibility of being one of the eldest children in the school. I know that you will all be fantastic role models.
Here is a little bit more information about me:
I moved to Leeds two years ago and you will be my second class at Farfield. I have also lived in Bath, Sheffield and London (where I taught for many years).
My favourite subjects at school are English, maths, science and P.E.
I love reading. Some of my favourite books include His Dark Materials by Philip Pullman, Harry Potter and anything by Katherine Rundell.
I also like walking, swimming in rivers, camping and tennis.
In September, we will all be moving to a new classroom: our room will be the one down by the office where Miss Jones' class is at the moment. Throughout the year we will cover lots of interesting topics, including evolution, microorganisms, The First World War and The Industrial Revolution. We hope to go on several different trips, including the residential to How Stean Gorge in June. More information will be given out about this later in the year.
In Year 6 we also complete our SATs tests. Although the tests can sound a bit scary, I find that most children actually quite enjoy doing them, as they give us all the chance to see how much progress we are making and really take pride in our achievements.
The thing I love most about Year 6 is the way everyone works together, supports each other and has fun. I can't wait to get started in September!
I hope to see you all at the Google Meet next Thursday.
Mrs Sykes
26/06/2020 at 15:48
It's been another creative week in Year 6 this week!
All the children have been really working hard to develop their art skills and have shown excellent resilience when trying something difficult.
Miss Levett's group have done some amazing observational drawings, demonstrating fantastic attention to detail and exploring the difference that shading makes to a picture:
In my bubble, we used photographs to draw self-portraits of us in action.
Our writing this week involved designing our own gadgets and writing persuasive adverts.
Here are some examples of our work from school and home…
Including this animated advert from Joel…
We also spent lots of time enjoying the sunshine and keeping active!
Wishing you all a lovely weekend,
Mrs Sykes and the Year 6 team
12/06/2020 at 18:11
We've had another excellent week at school with the children all working hard and producing some brilliant work.
We have continued to base our English work on The Mysteries of Harris Burdick. The children have been planning and writing their own stories about the pictures, focusing on structure and creating tension. Here is a selection of work from the week. Warning: there are lots of unhappy endings!
In science, we have been thinking about how we see – a mystery that first puzzled the ancient Greeks! In my group, we used our experiences and observations to explain that we see objects because light travels from a light source to an object and then reflects into our eyes. Sam explained how the image we see would be upside down if it wasn't for our brains! We then used a concept cartoon to think about whether we would be able to see in a dark cave. Miss Levett's group focused on different sorts of mirrors and why our reflections sometimes appear different.
In art we attempted some trickier drawings of people in motion. I was very impressed with the children's efforts!
We have also been farming, coding, completing tennis challenges, using fractions, decimals and percentages and looking back on some very cute photos of 6S throughout their time at Farsley Farfield!
At home, the children have been working on newspaper reports, building up to a final piece based on Harry Potter. Well done for working hard on this task.
Have a wonderful weekend everyone,
Mrs Sykes and the Year 6 team