14/10/2016 at 16:16
This afternoon, we continued to learn about the natural disasters caused by the movement of the tectonic plates beneath us.
We began by refreshing our memories about what causes quakes and some of the key language:
We analysed images and data presented in other ways to ascertain which, out of the Haitian, Italian and Chinese earthquakes had been the most devastating.
4 images of the aftermath of each quake:
We began to apply our maths skills to analyse data and make comparisons between the quakes including their magnitude, amplitude and the scale to which people were affected by them.
I was really impressed with the children's mature attitude to the disasters and the way they thought very carefully about what the pictures showed them including what they could infer based on their existing understanding.
13/10/2016 at 21:25
Because of bikeability, the children have worked independently for most of this week but our focus tasks have been to introduce and progress through the methods of division we are expected to know in year 6. We discussed the fundamental skills involved in dividing and decided some of us need to improve them further to become fluent:
Multiplication facts
Subtraction facts
Column subtraction
Following a method
Checking workings step by step
Target 1:
Short division (often called bus stop)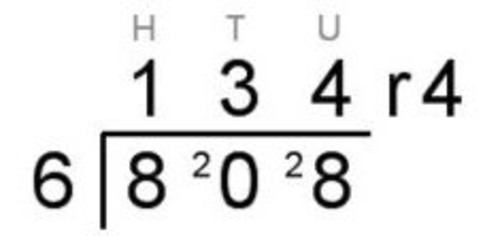 Target 2:
Long division (new learning for some)
Next week, our focus is on the following:
calculation assessment – what have we retained from our half term's learning?
problem solving – continue to develop our analysis skills, method selection and checking skills
reasoning skills
Homework is as follows:
Mathletics tasks – this can be done at school but I need to be told this before Monday via a comment or direct email.
Continue to learn multiplication tables (see below)
Know the facts up to 12 x 12
Apply the basic fact to scaling questions e.g. 700 x 6 and 0.7 x 6
Use them to know inverse operation questions (divisions using the same numbers)
13/10/2016 at 20:45
Because of bikeability, we have spent a lot of time working independently this week redrafting our island recounts based on Kensuke's Kingdom. The children have worked hard to engage in the redrafting process by:
Responding to written feedback
Identifying gaps in the marking ladder they used
Improving language, the range of punctuation and the types of clauses used throughout
*Photos of finished pieces to follow*
Next week, we are going to continue to learn all about explanation texts to run alongside our topic about natural disasters – earthquakes in particular.
13/10/2016 at 20:28
This week, the majority of the class have taken part in bikeability training for children. They took part in sessions on the school grounds and out on the local roads. They all seemed to enjoy it and thankfully the traditional bikeability training rain wasn't much more than a couple of light showers.
The instructors complemented the children's ability and focus, which is great but not a surprise!
Definitely great learners and citizens being safe and healthy!
06/10/2016 at 22:21
This week, we started to learn all about explanation texts. We have begun by identifying why and how they are different to other types of non-fiction.
Next week, during many of our bikeability sessions, the children will identify the features within various examples and use this knowledge to answer questions about them.
Take a look at this:
An interactive that will help reinforce the key features.
06/10/2016 at 22:14
This week in maths, the children have continued to develop their understanding of the four operations of calculations. The class worked really hard and have made some good progress towards the objectives. Our focus this week was multiplication.
The children learned how to:
Apply their knowledge of multiplication facts to formal written methods.
Multiply a number up to 4 digits by a 2 digit number.
Continue to improve their ability to analyse problems effectively and answer using appropriate methods.
Formal multiplication:
Next week – Short and Long Division:

Homework is some problem solving questions.